Macabre Bone Wasp skin buzzes onto the Fortnite Item shop alongside the Sting Set
After a glimpse in the key art of the Shootout at Sundown challenges, the Sting set of Fortnite skins are now available in the Item Shop.
In the Shootout at Sundown Loading Screen, you can the two new skins standing over other defeated characters, with the male skin's high-topped foot standing on the helmet from the Beastmode skin.
The scene looks to be at the newly introduced Tilted Town, far away from the rest of this week's lost spray cans, vending machines, and containers with windows.
Behind them to the left, you can also see a new glider stuck into the floor, and both new skin characters are holding their respectively Back Blings.
The yellow guy is an Epic tier skin called Bone Wasp, while the female skin is called Facet.
They've been announced together as the Sting Set, but only Bone Wasp carries the tag.
Fortnite – Bone Wasp
As you might expect, the Bone Wasp skin incorporates a striking yellow and black colourway with red accents, as well as a high collared souvenir jacket with a skeletal wasp motif on the back.
His name could come from the real-life Bone House Wasp, a large, spider-predatory wasp that lays its eggs in a pouch filled with dead ants. Researchers think they might the chemical scent of death from the ants to put off other would-be predators from visiting their nests.
In keeping with that morbid inspiration, his Back Bling is a giant, machete-like sword called Primal Danger. A brush with that looks like it would more than sting.
It looks similar to Vega's Go Bag Back Bling in the yellow colorway, just without the selectable styles.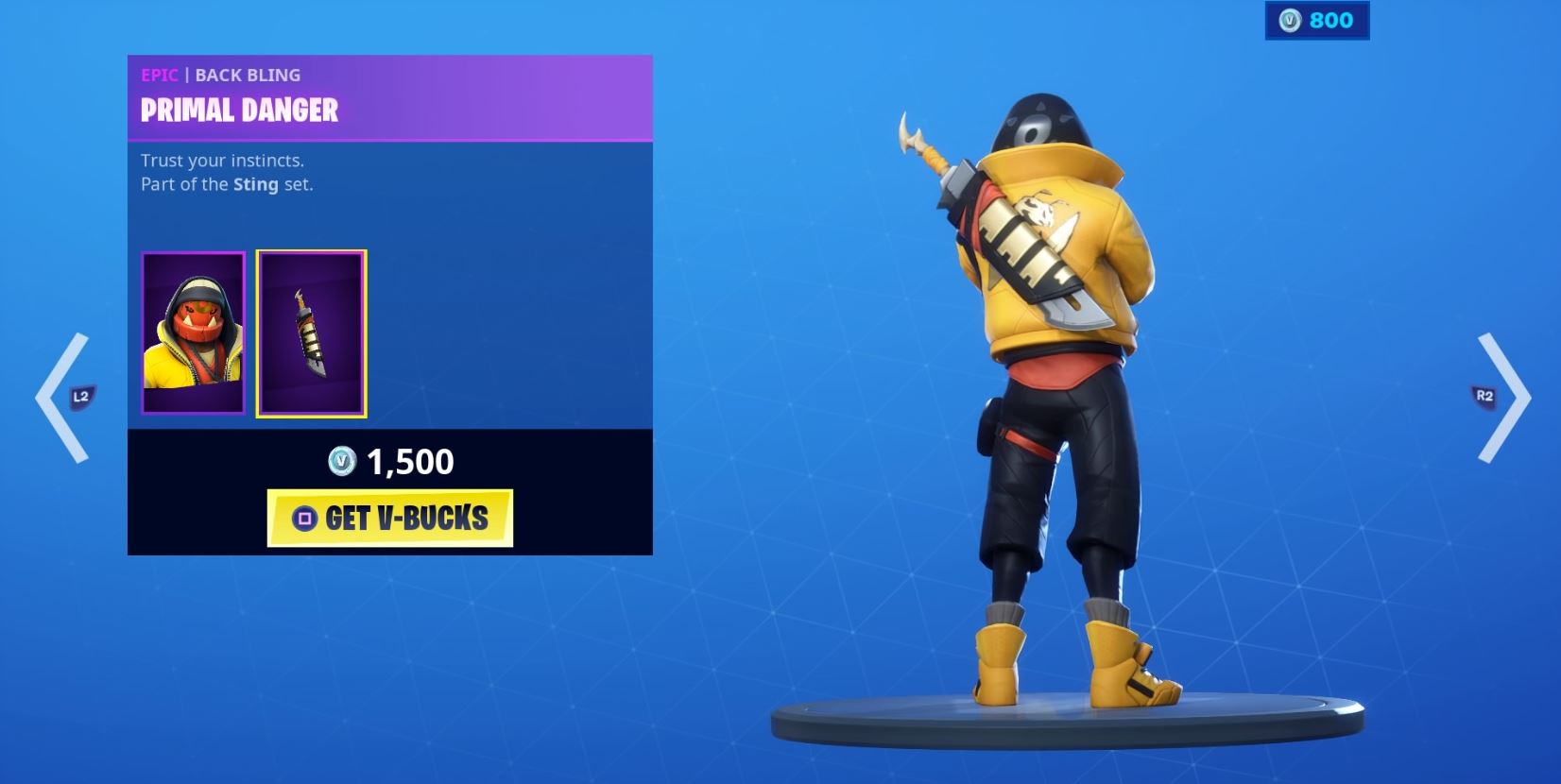 The Sting Set is completed by the Primal Sting Harvesting Tool.
And the Horned Strike Glider that was shown off in the Loading Screen.
Fortnite – Geode
As well as Bone Wasp, a Rare tier skin, Facet, also entered the Shop accompanied by her Back Bling, Geode.
Described as a "multifaceted combat specialist," she's in keeping with the futuristic theme we've seen for a while in Fortnite – although different from the graffiti covered billboard tagger Tilted Teknique.
Although she seems to be more inspired by rocks and geology, there are some insect-like aspects to her costume which fit with Bone Wasp. Namely the geometric patterns on her arms and coat, as well as the design on her facemask.
Both are available today in the item shop, if you want to spray different gas stations in style.
Content courtesy of VG247.com published on , original article here.