Fortnite How to Get Gold 8-Ball Style
We're taking a look at how to obtain the Gold 8-Ball style in Fortnite's Chapter 2: Season 1 of the Battle Pass! 8-Ball is one of the more popular skins to come out of the pass. The Scratch version of the skin has been plagued with some kind of corruption, and now 8-Ball has been given a golden style to collect. We've got a full guide on what you need to do to grab it.
How to Get the Gold 8-Ball Style
The Gold 8-Ball style is apart of the Fortnite Season 11 Overtime Challenges. These challenges were released on January 15th, 2020, so you can start completing them to earn your new styles. It looks like there will be a set of challenges for some of the other Battle Pass skins releasing each week going forward!
Gold 8-Ball Challenges
Here's a look at the challenges you will need to complete to earn the Gold 8-Ball style:
Challenge Guide
Earn Bronze Battle Medals by getting eliminations in a match (3)
You just need to get two eliminations in a match to get the bronze medal. This should work in Team Rumble, so that will obviously be much easier to complete in there.
Ring the doorbell of a house with an opponent inside in different matches (3)
This could be a bit annoying, but Salty Spring is pretty popular so I would head there and wait for someone to hack their way through the roof of a house. Once that happens, ring the doorbell and run for it or just leave the game!
Dance at Rainbow Rentals, Beach Bus, and Lake Canoe (1)
You can go to all of these locations in one game, but it's probably a lot easier to just split it up and head to Rainbow Rentals in a game and then go to the other two in the second game. You could also just do three games so you can glide on over to each of them. Team Rumble makes it easier because you get a glider to use over and over.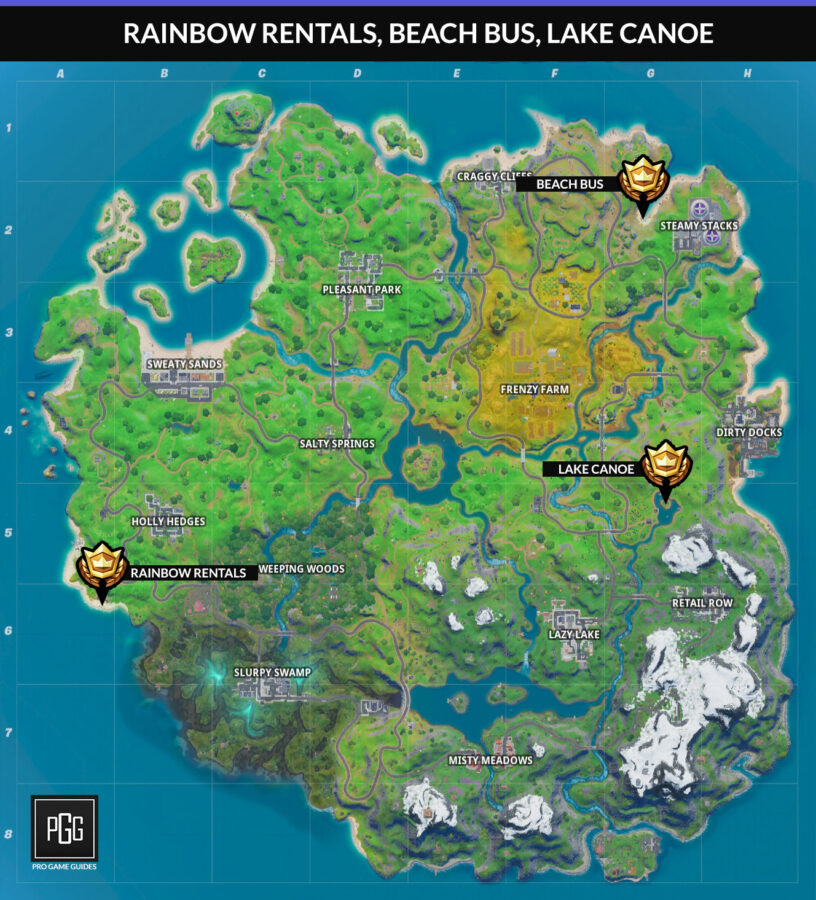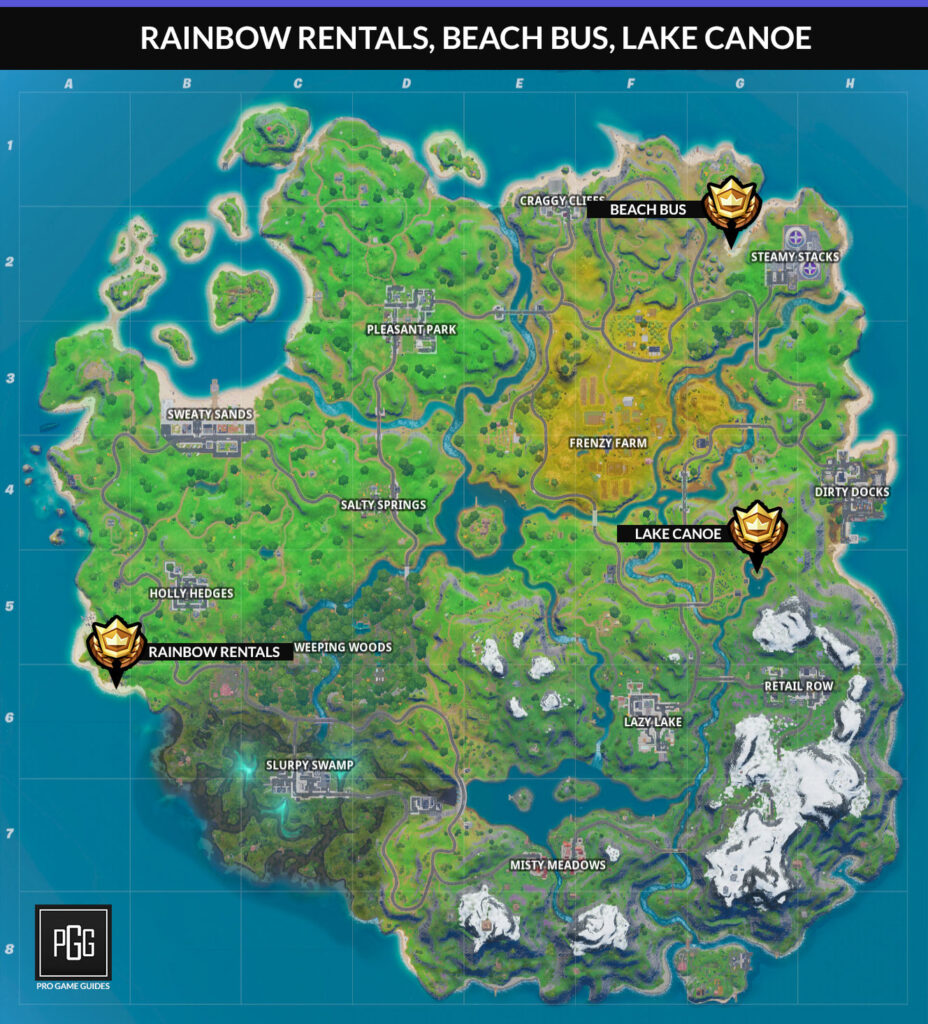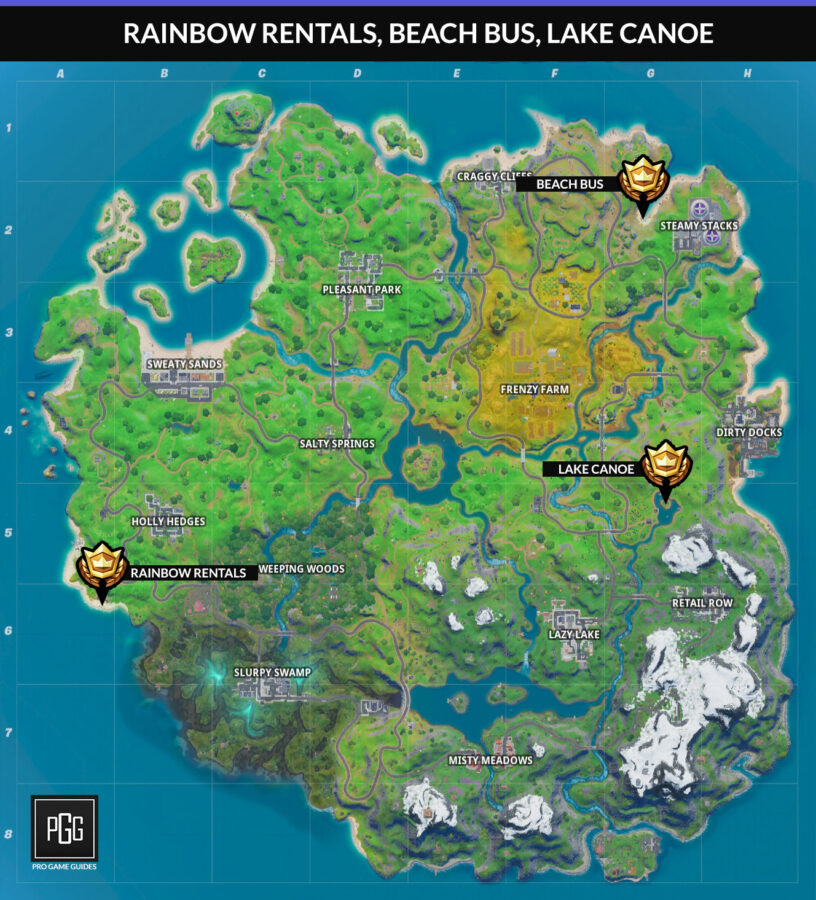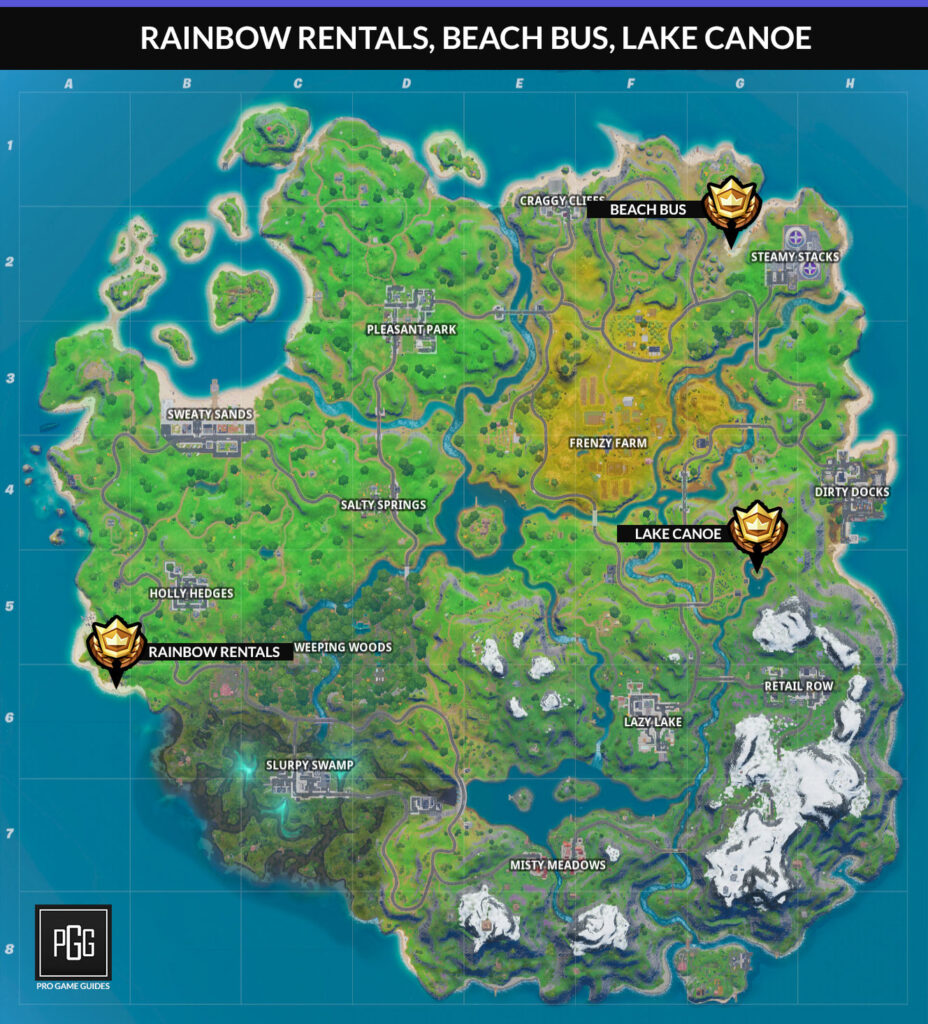 Swim at different No Swimming Signs (2)
You'll want to head to the no swimming location that is located northwest of Lazy Lake. It's ABOVE the waterfall and on the bank, so don't accidentally fall down that way! Once you've done that, you can make your way south down the river and possibly find a boat. Then head to the west when you hit the lake and swim in front of the one that is near the dam.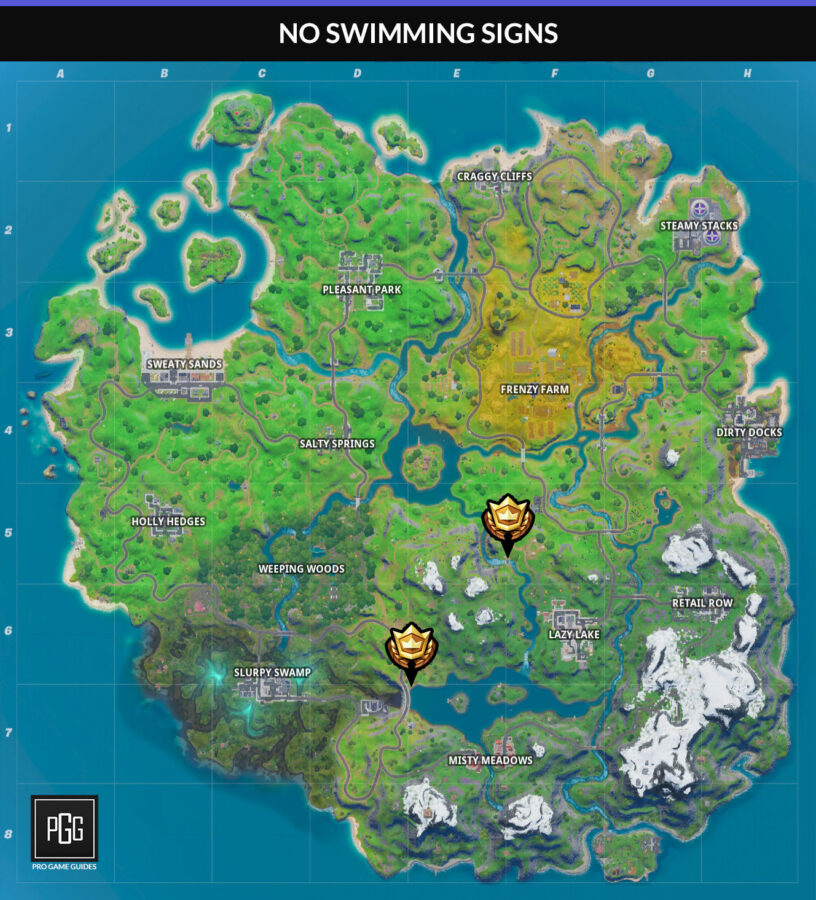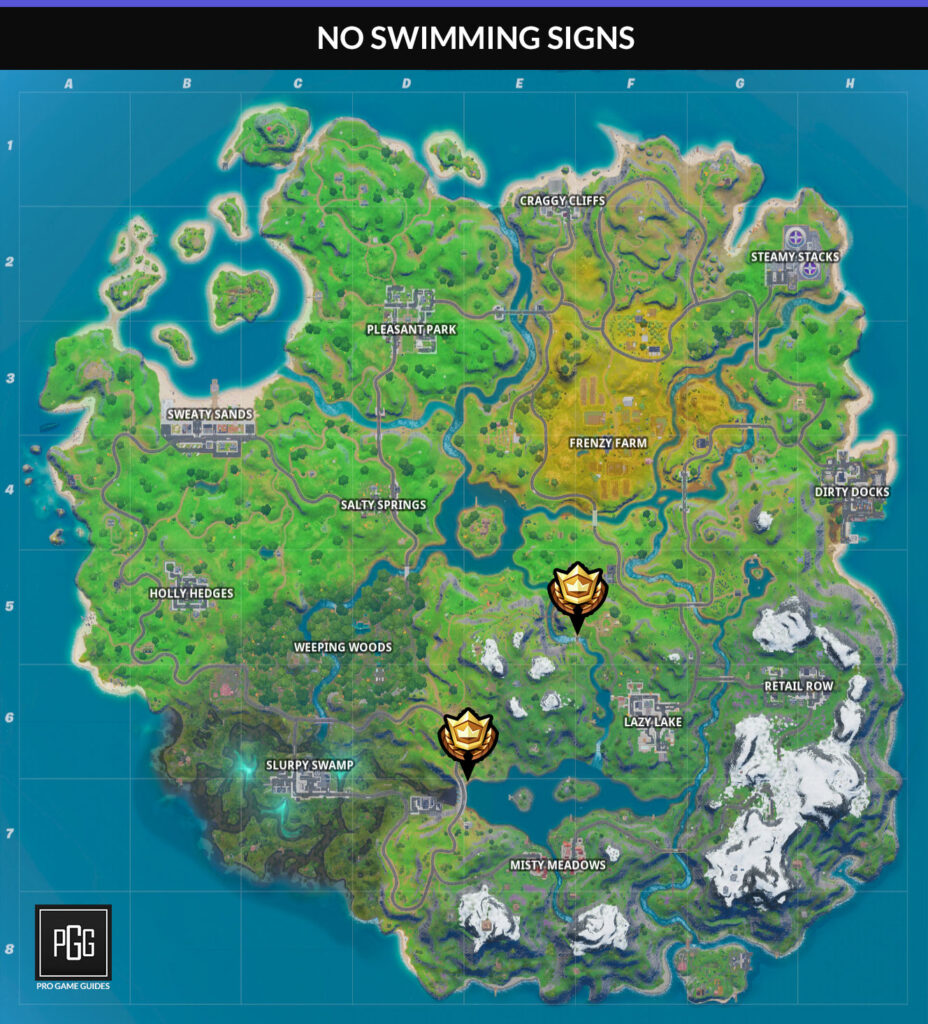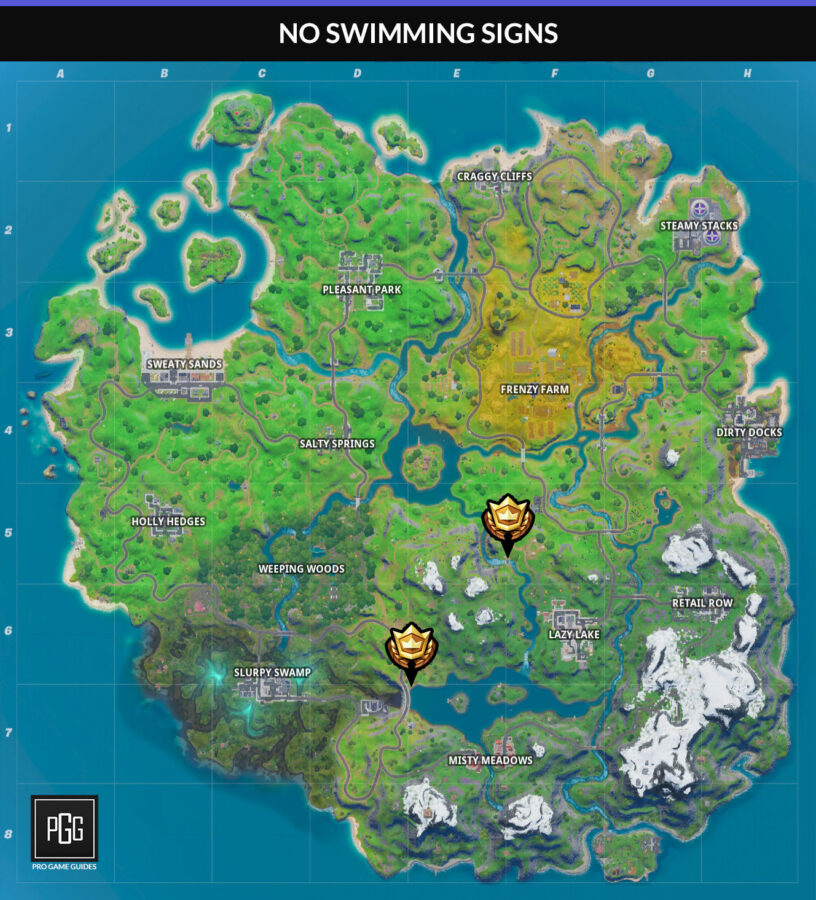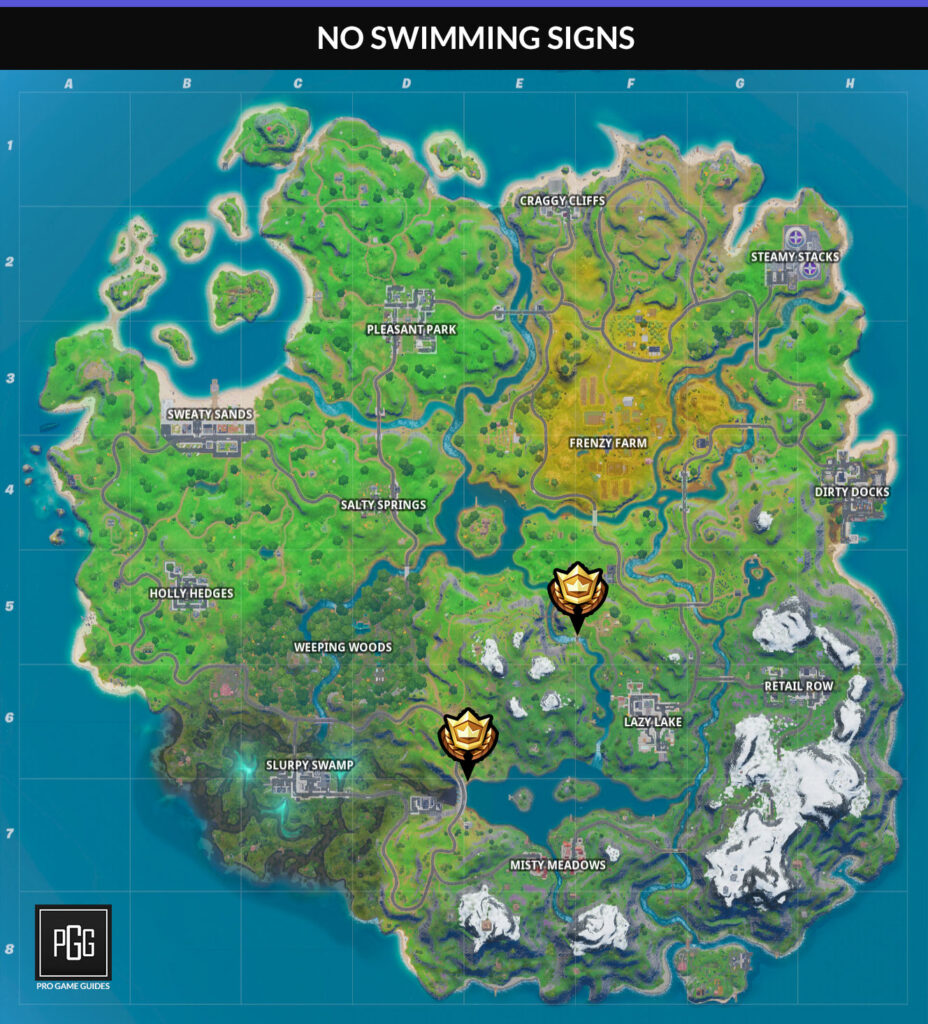 Deal damage with a Harpoon Gun to opponents (75)
This is going to be annoying, but you're going to need to hit an opponent with a Harpoon Gun. I'd try this in Team Rumble, but I'm not sure how good the Harpoon Gun spawn rate is in that mode.
Gain Health or Shields in a bush (1)
Find a bush to hang out in and gain some health or shield.
Search the hidden gnome found inbetween Fancy View, a wooden shake, and a big house (1)
This gnome can be found northwest of Holly Hedges. There's the big unnamed house and just north of that in the flowers is the gnome!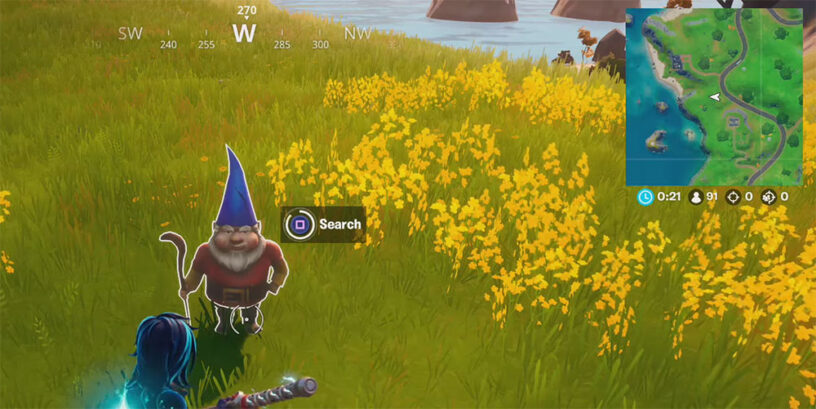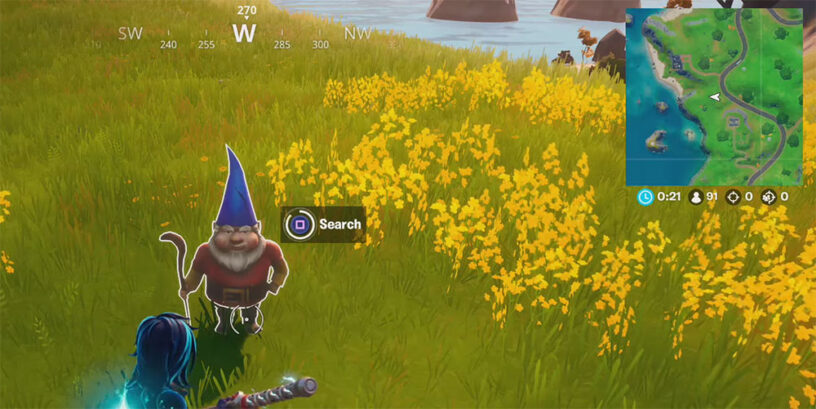 Bounce on bouncy objects in different matches (3)
Head over to Sweaty Sands and go to the beach area and jump on one of the umbrellas you can find there. You can do this same thing in three different matches.
Visit mountain Base Camps (3)
You can find the Base Camps along the southeastern portion of the map. Here are the exact locations of the three you need:
Travel 100 meters while dancing (100)
Equip one of the dances you have that has Traversal on it and start dancing and moving forward. Team Rumble is going to be your safest bet for doing this uninterrupted, especially in the early stages of the game. The Boing! emote from Season 11 is a Traversal emote, if you aren't sure if you have one already.
Gold 8-Ball Styles
Not only do you get the purple style for the outfit, you also get it for the back bling and harvesting tool that go with the set!
Content courtesy of Pro Game Guides published on , original article here.