😂 NOOB
Where is Rapid's Rest in Fortnite? (Season 3)
Rapid's Rest Location in Fortnite Season 3
Hey Bots, another week, another challenge.  For all you try-hards' and wanna be Fortnite Pro's sporting your new Galaxy Scout skin, Rapid's Rest is a location that isn't labeled on the map, so unless you play 24/7 or just a Fortntie Nerd like SquattingDog, you'll need some help!  Rapid's Rest is the name of the rapid between Lazy Lake and Retail Row.  This isn't commonly known so we have included a map below with it's precise location.
You can find Rapid's Rest by going to the river that can be found between Lazy Lake and Retail Row. Make sure you are south of the bridge that leads from Retail Row to Lazy Lake, because the area starts a bit south from there in the white water rapids section of the river that flows into the lake and further south.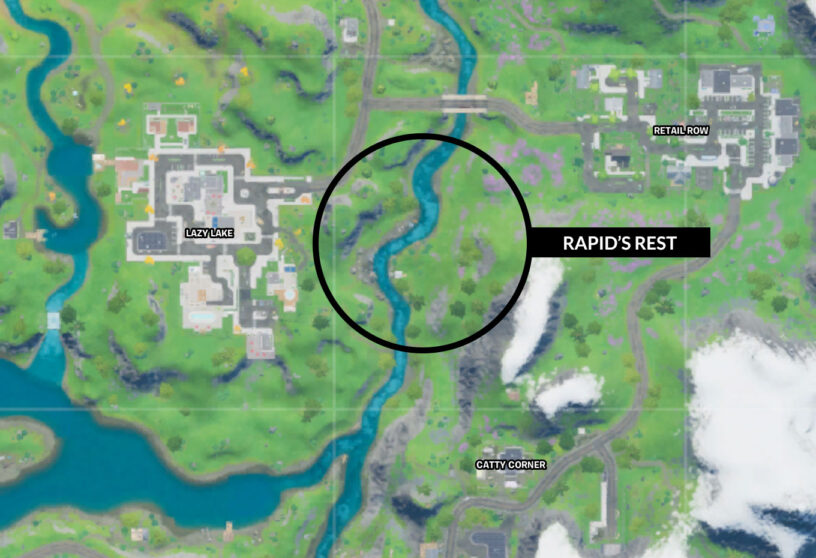 Rapid's Rest is part of the Week 7 Challenges in Fortnite's Chapter 2: Season 3.  To complete the challenge, you need to go there and collect stone by breaking a bunch of different boulders that can be found on the shores of the river.  Avoid being a Fortnite Bot, be careful you don't get swept away by the current in the water.
You can also head down to Catty Corner while you're in the area, because there's an additional challenge to complete there.  That one requires you find some balls of yarn, which Kit apparently play with while he isn't patrolling the area and taking out Fortnite players.