Fortnite Weeping Woods Floating Rings Location and Map Guide
Location and Map of Rings in Weeping Woods
Weeping Woods is no longer underwater.  The majority of the location has dried up so you can now creep your way through the forest on land. The challenge this week is to visit the various ring locations in Weeping Woods, there are five total.  As you might remember, ok, maybe not you noobs but the Floating Ring challenges have been around forever.  A few weeks ago, there were some glitches at Lazy Lake making the ring challenge near impossible and a complete guessing game.  Also the week after in Steamy Stacks it was so bad they just called off the challenge.
You can find the Weeping Woods rings by going to the east side of the location where the rings are floating above many of trees. For noobs and bot, I'd recommend heading into Team Rumble for this one because #1 you don't have to worry about getting clipped but #2 you can complete it a lot faster.  For the Fortnite Sweats, like SqauttingDog and his DoggPound you are allowed to this challenge in Solo.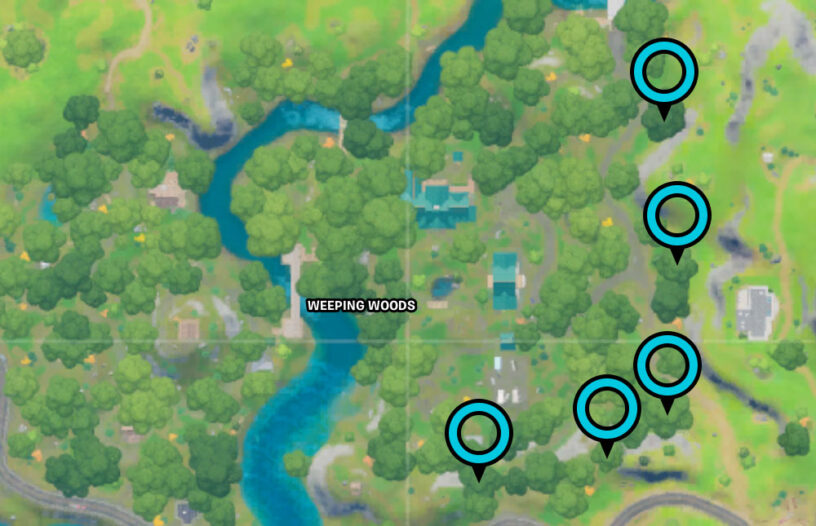 All the rings are pretty visible because they are floating above the trees in Weeping Woods. They trail the outside edge of the eastern and southeastern portion of the area. Some of the trees might get destroyed by other players, so you might need to build up to them.
Helpful Floating Rings in Weeping Woods Challenge Video
If you can't collect or see the rings, then I wouldn't keep trying to complete it. Epic will likely add a different challenge to the game that you can complete instead! If you're struggling to locate some of these, check out this video with all of the locations.