All NPC Fortnite Locations: All characters (NPC) in Fortnite season 5
Here's where all the NPCs in Fortnite season 5 are on the map.
Fortnite chapter 2 season 5 launched on Wednesday with some major map changes along with brand new features to keep the game fresh including bounties and the ability to purchase exotic weapons.
At the center of all of these new features are characters in Fortnite. Epic Games added a number of characters dotted all around the Fortnite season 5 map. These NPCs allow players to complete small in-game quests in order to earn gold bars.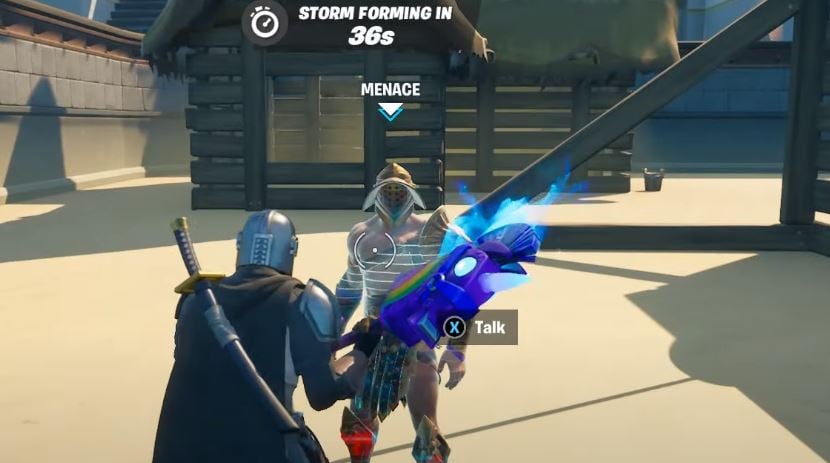 Fortnite Character
These gold bars can be spent with Fortnite characters (NPC) on upgrading weapons, purchasing weapons including exotic Fortnite weapons, buying services and intel, and much more. Players can also get bounties from characters in Fortnite, which provide the most gold bars upon completion.
As mentioned, there's 40 NPCs on the Fortnite season 5 map according to the collection book, but that includes the Mandalorian boss that's located at the Razor Crest location in the desert biome.
RELATED:  How to Earn Weapon Specialist Accolades and what are they? (Left Shoulder Mandalorian Armor)
RELATED:  Fortnite: Collect Maple Syrup Buckets in Weeping Woods Locations
Mandalorian Fortnite Boss
Here's all the locations of characters (NPC) in Fortnite season 5.
All Fortnite Character Locations (NPC Locations) in Season 5
If you're wondering where characters are in Fortnite, you'll probably need it for the talk to characters challenge, or locate characters to purchase all Fortnite exotic weapons, or something else. Here's a list of all the locations along with a all the character locations marked on the Fortnite season 5 map.
Lexa: Hunter's Haven
Reese: Dirty Docks
Menace: Colossal Coliseum
Mancake: Butter Barn
Mave: Shipwreck Cove
Kondor: Misty Meadows
The Mandalorian: Razor Crest
Reaper: Southwest of Sweaty Sands
Brutus: Dirty Docks
Deadfire: The Sheriff's Office
Triggerfish: Crashed Cargo, West of Sweaty Sands
Bullseye: Steamy Stacks
Bandolier: Flushed Building
Longshot: Misty Meadows
Splode: Lighthouse
Blaze: Pristine Point
Remedy: Hilltop House, Craggy Cliffs
Big Chuggus: Slurpy Swamp
Kyle: Weeping Woods
Cole: Retail Row, Shipwreck Cove
Ragnarok: Holly Hedges (Viking Vessel)
Bushranger: Salty Towers
Dummy: Pleasant Park
Sparkplug: Lazy Lake
Burnout: Steamy Stacks
Turk: Lazy Lake
Outcast: Sweaty Sands
Rapscallion: Lazy Lake
Sleuth: Sweaty Sands
Grimbles: Fort Crumpet
Sunflower: The Orchard
Farmer Steel: Steem Farm, East of Colossal Coliseum
Doggo: Pleasant Park
Kit: Catty Corner
Beef Boss: The Durr Burger Food Truck
Tomato Head: The Pizza Pit
Bunker Jonesy: Camp Cod
Bigfoot: Weeping Woods
Ruckus: Hydro 16
Fishstick: Craggy Cliffs
RELATED:  Fortnite: Place a camera near the Beachside Mansion Location
RELATED:  Fortnite: Find a Maple Syrup Stash at Hunter's Haven Location
Here's the map with all NPC locations in Fortnite season 5 thanks to MeetLootLlama: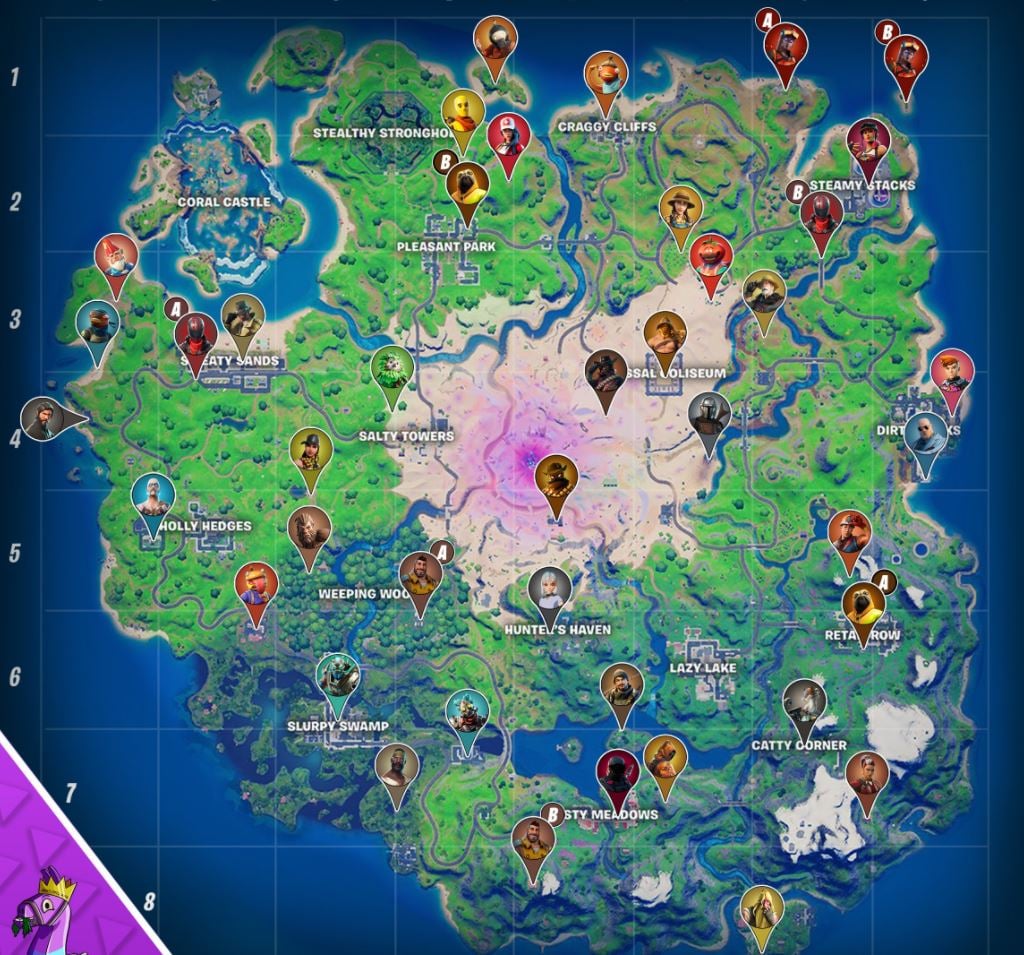 All Fortnite Character NPC Locations Map Season 5
Content courtesy of FortniteInsider.com published on , original article here.